Phillip Island Winery
Whether you're travelling from overseas, or want a destination wedding feel without leaving Australia, Phillip Island has the answer.
THE LATEST HOT SPOT…
You would have seen weddings in the beautiful Yarra Valley, Mornington or Daylesford, but what about picturesque Phillip Island? With this dreamy location being only 90 minutes from Melbourne, it's certainly on the rise to being one of the most stunning spots to say, 'I do'. Phillip Island gives you the look and feel of a destination wedding, but without the price tag that comes with a European getaway.
ENDLESS OPTIONS…
You may look at Phillip Island and think 'Well, I'm not after a beach wedding – is it really the spot for me?'. The good news is that the options for weddings themes, locations and venues are endless. There are coastal views, rustic wineries, and scenic farmlands all available, so your dream day is easy to plan. Not only that, but the vendors that are recommended to you in the area are able to adapt to the look and feel you've imagined.
EVERYTHING YOU NEED IN ONE LOCATION…
Given the size of Phillip Island, the wedding community is well connected and know exactly how to help you plan your perfect day. Premium venues and suppliers are available no matter what style of wedding you've imagined and will all work tirelessly to give you the day of your dreams! 
IT DOESN'T STOP THERE…
One of the biggest perks to a destination wedding is being able to create the trip of a lifetime around the wedding date – and that's exactly what you can achieve while staying on Phillip Island! Many guests choose to have mini moons after the big day, giving them the chance to enjoy the endless list of activities available. There are hiking trials to explore, wildlife to see, exquisite dining locations to treasure, adventurous water sports to enjoy, and even some romantic stargazing to appreciate.
CHECK IT OUT…
Want a virtual tour of what Phillip Island has to offer for your dream day? Check it out below!
To find out more about planning your dream wedding on Phillip Island, click here.
Most popular bridesmaid & bridesmen dress colours.
---
Once you've decided on a colour scheme for your wedding, it's time to start thinking about what your bridesmaids (or bridesmen) will wear! The look and style of your bridal party play a major part in tying together the overall theme of your wedding day.
Finding the perfect look for your bride tribe can be a tricky task — one that usually requires lots of discussion and endless inspo pics being shared in the group chat. If you're not sure where to start, we've rounded up the most popular bridesmaid dress colours and styles to inspire your selection.
Whether you're planning to mix things up with mismatched bridal party looks or going for a more cohesive vibe, you'll want to make sure the colour and style of the bridesmaid dresses you pick are flattering, comfortable, and match your overall colour theme. If you're yet to finalise a colour scheme for your wedding, check out this article for trending Bridal Accessories palettes we're loving.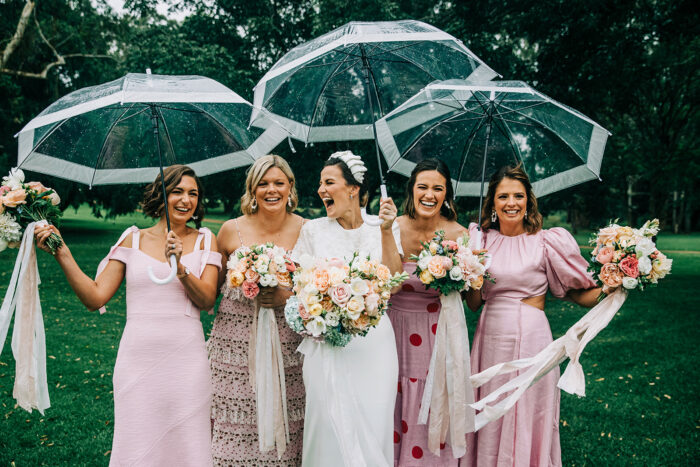 ---
What are the most popular bridesmaid dress colours at the moment?
According to the lovely team at Bridley, soft champagnes and earthy tones are having a moment — and we are here for it.
"We're seeing more brides and bridesmaids interested in soft champagne tones and also earthier mauve and rust tones. That being said, navy is also a timeless colour that we are seeing more frequently for mother-of-the-bride looks."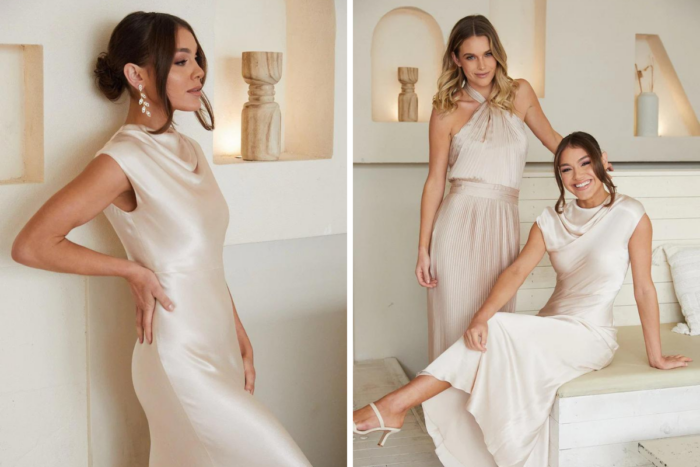 If you're not overly keen on the idea of black bridesmaid dresses, Bridley suggest darker-toned dresses such as navy or dark mauve, as they are flattering tones for various skin tones and figures. "The fabrication of bridesmaid dresses can also make a big impact and help by broadening the colours that can be selected. For example, waterfall/knife pleating is flattering on many silhouettes — the pleating elongates the figure, and the relaxed fit is comfy and modest, so your bridesmaids are likely to feel more comfortable."
Earthy Tones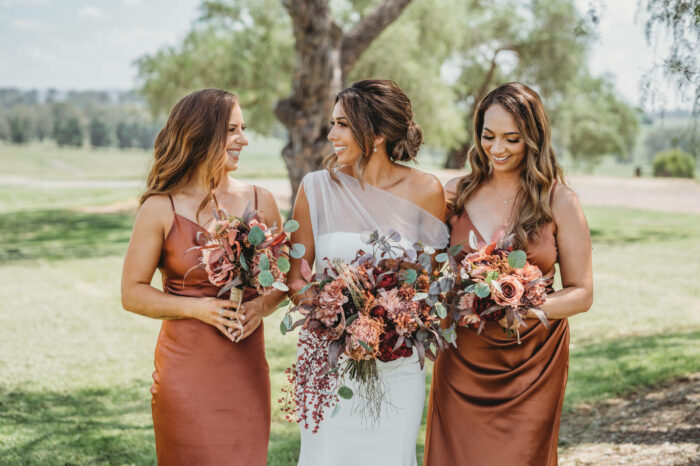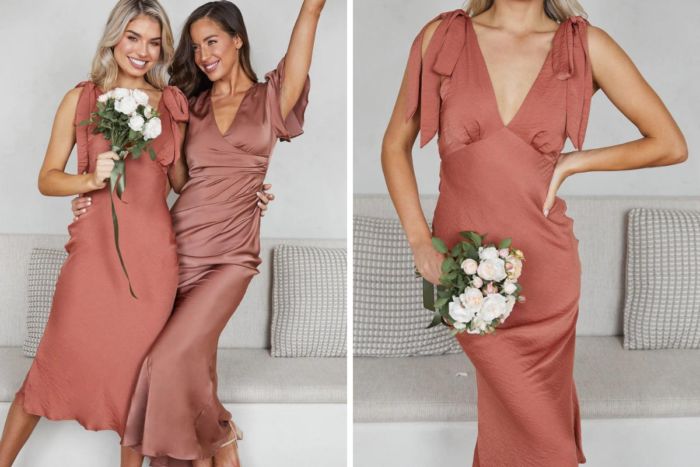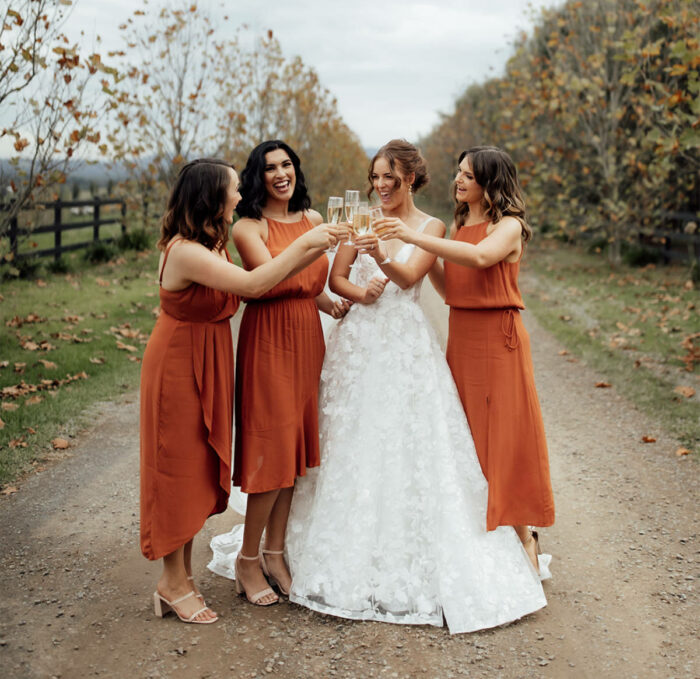 Rust, mauve, copper, mustard, taupe, and terracotta are all gorgeous earthy tones for bridesmaids' dresses, evoking a rich warmth that looks absolutely stunning in photos. From rustic rural soirees to luxe bohemian weddings, the earthy colour palette suits an array of themes and is a great choice if you're planning to tie the knot in autumn.
Greens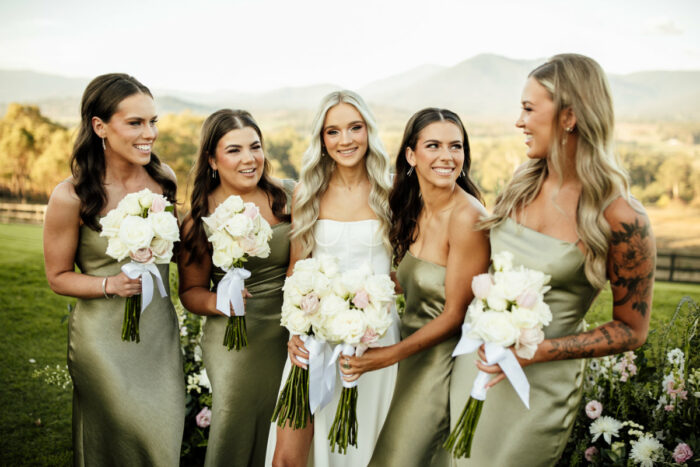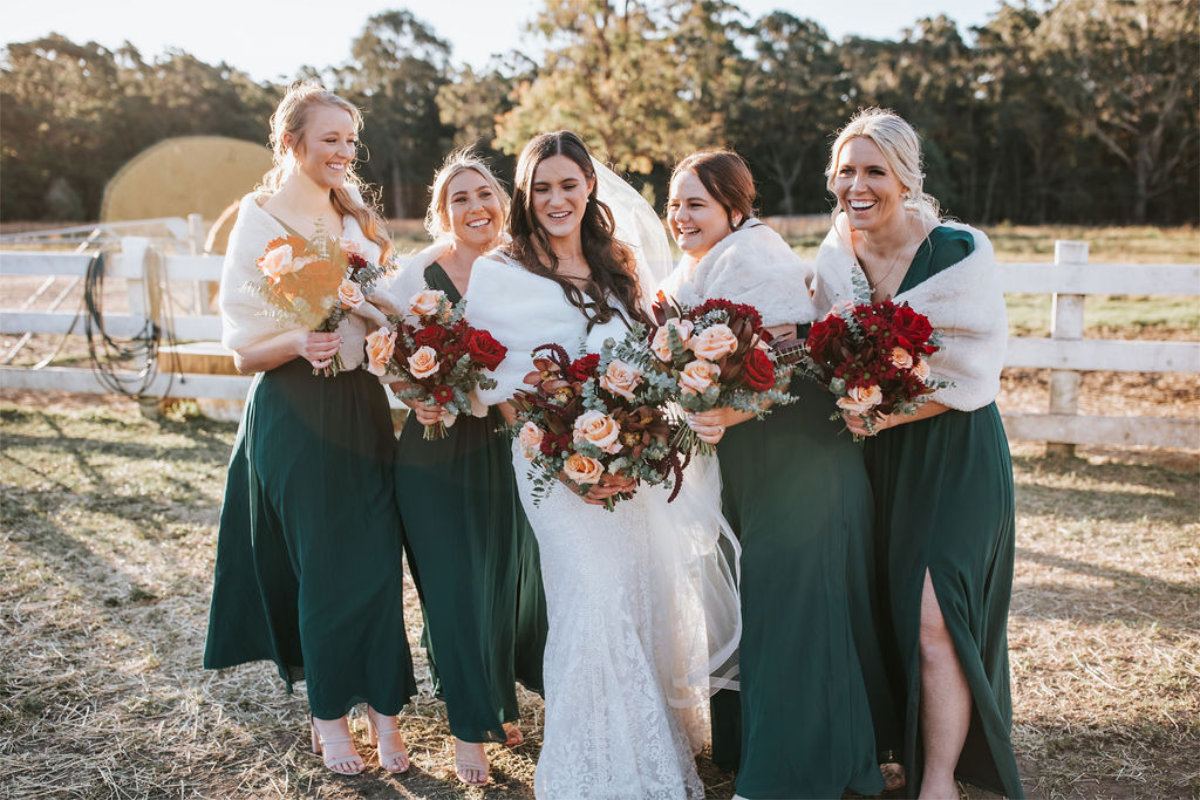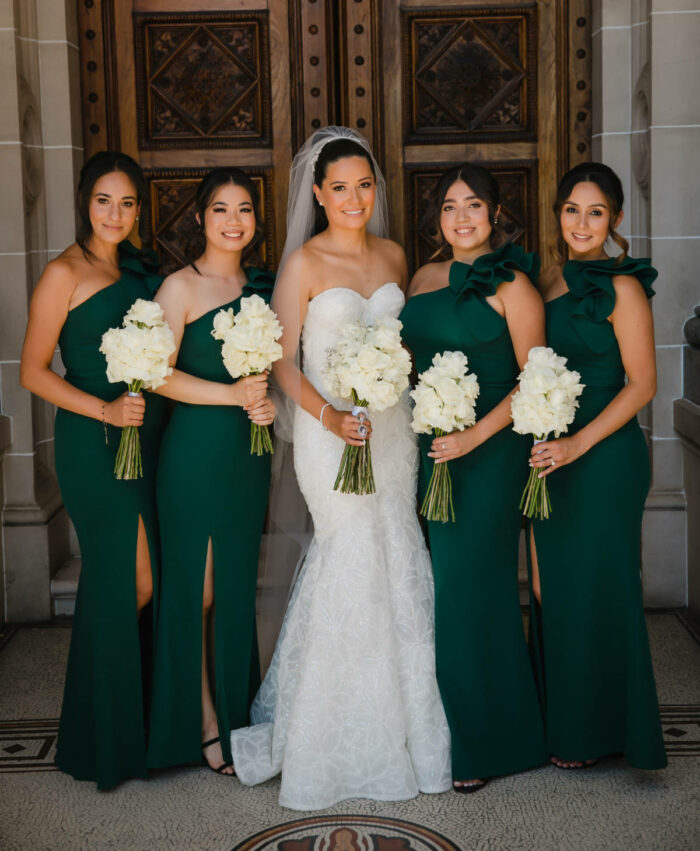 Perfect for spring weddings and whimsical garden gatherings, green has fast become a popular bridesmaid dress colour, and it's here to stay. Sage, forest and emerald green have become particularly popular in recent years, lending themselves perfectly to fresh colour palettes with pops of white contrasting the green tones beautifully.
Blush Pink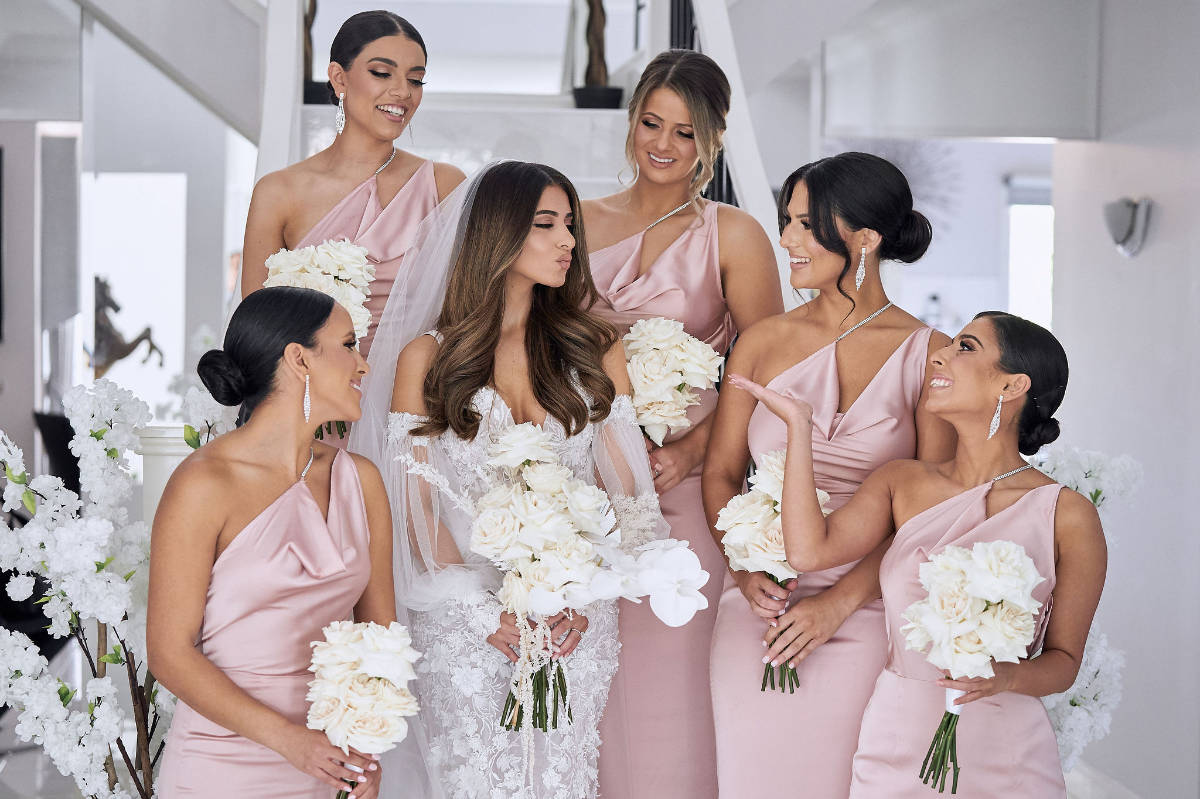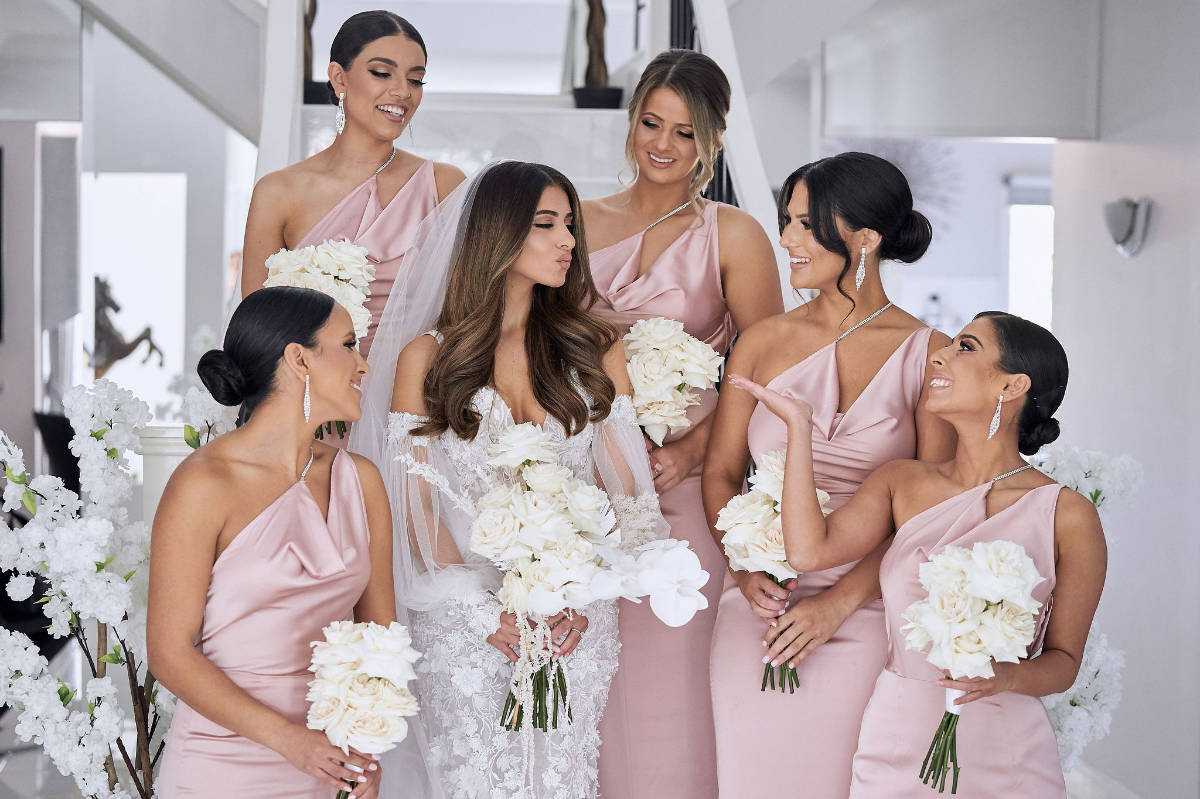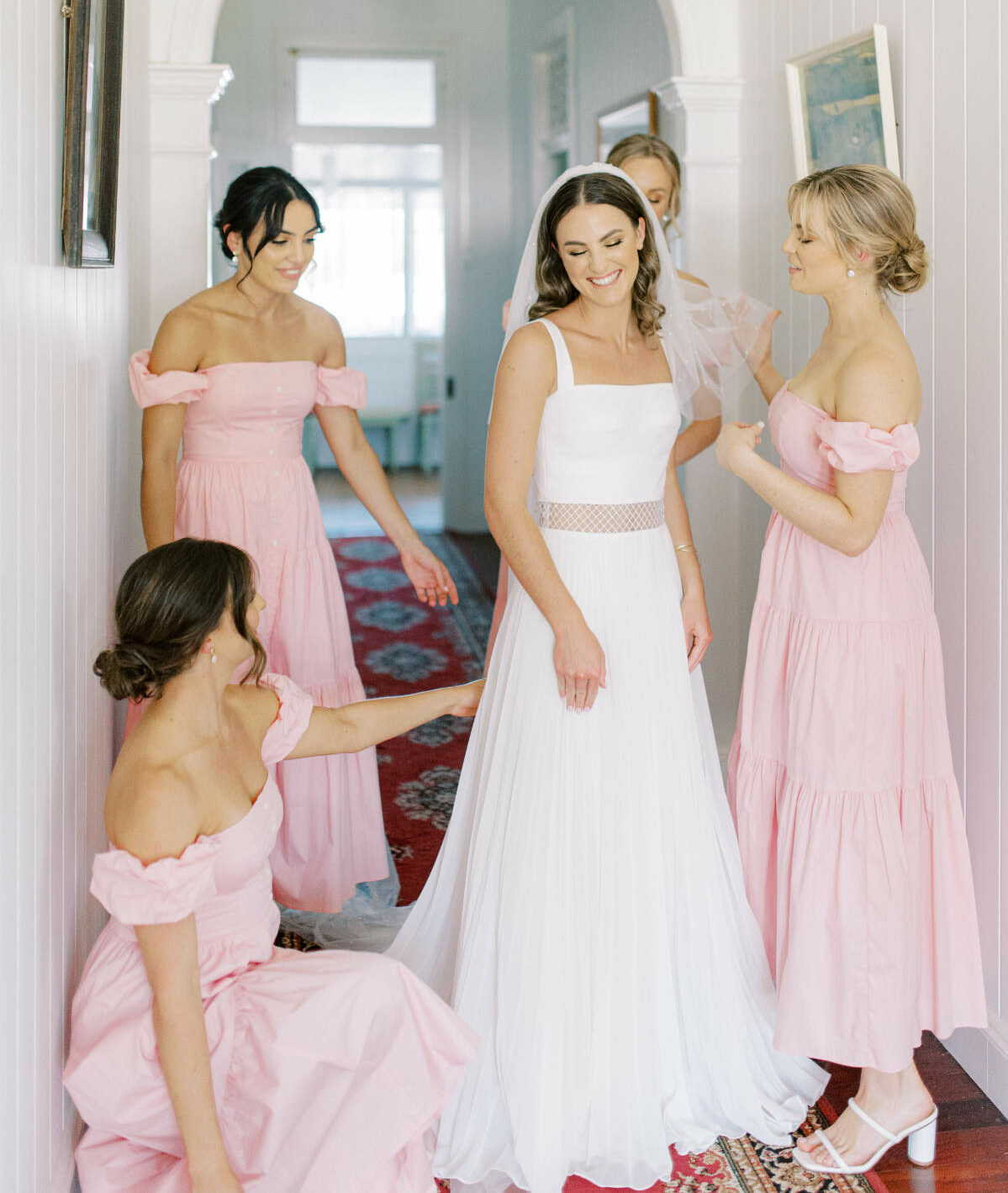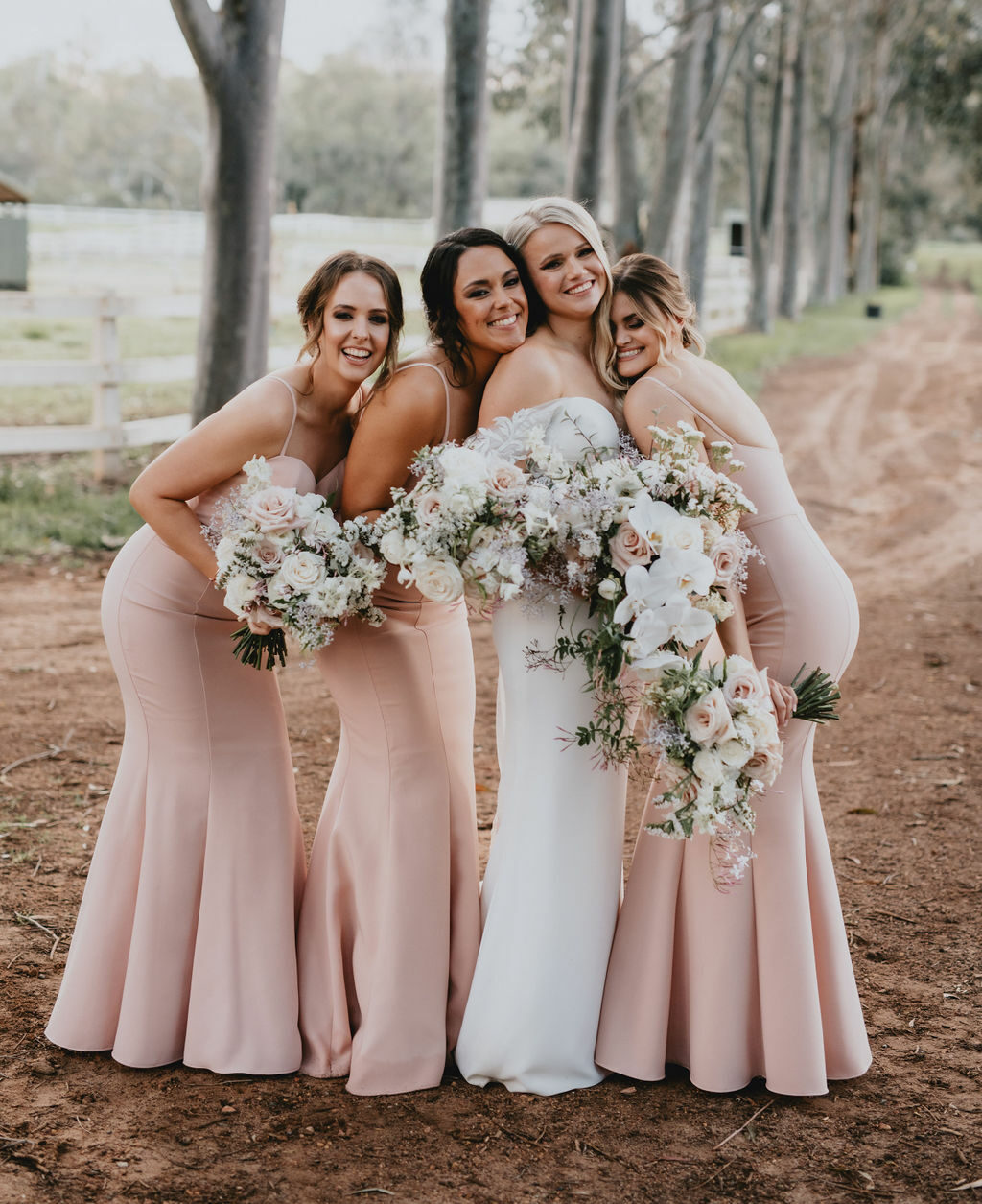 Another timeless bridesmaid dress colour, blush pink is a dreamy, soft shade perfect for romantic garden weddings in the warmer months. We love the subtlety and femininity of this shade, which looks particularly stunning in satin. And because blush is one of the most popular bridesmaid dress colours of all time, it'll be easy to find different styles in the same shade to suit all of your bridal party members!
Soft Peach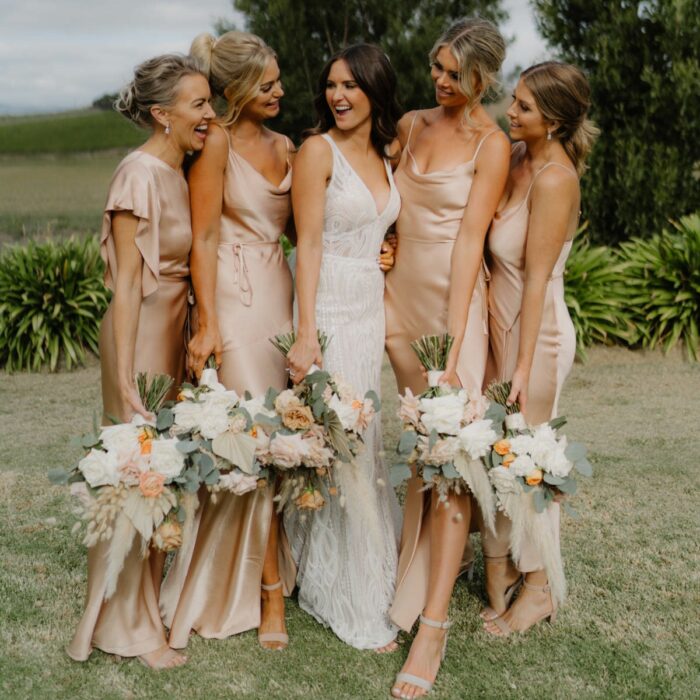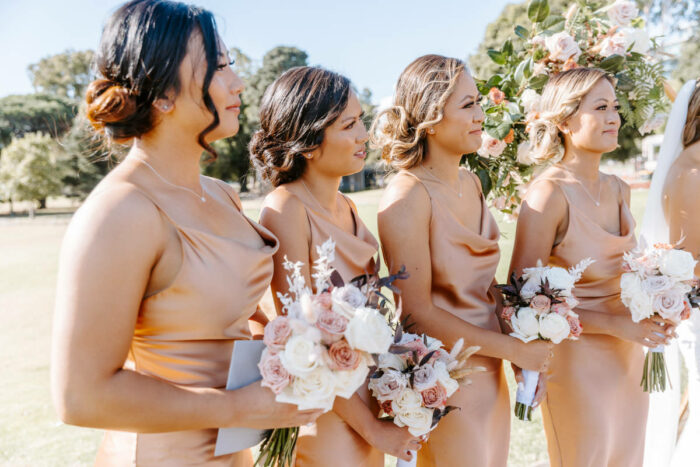 Similar to blush but with a fresher take, soft peach is a versatile bridesmaid dress colour that pairs beautifully with romantic pastel blooms. A beautiful colour for spring or summer weddings, soft peach is a timeless but fun wedding colour and works well in winery, garden and beach settings.
White & Ivory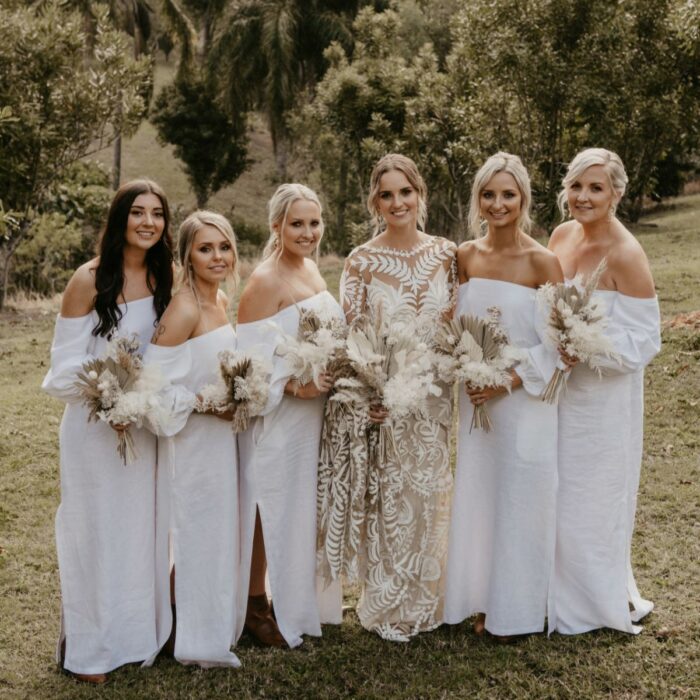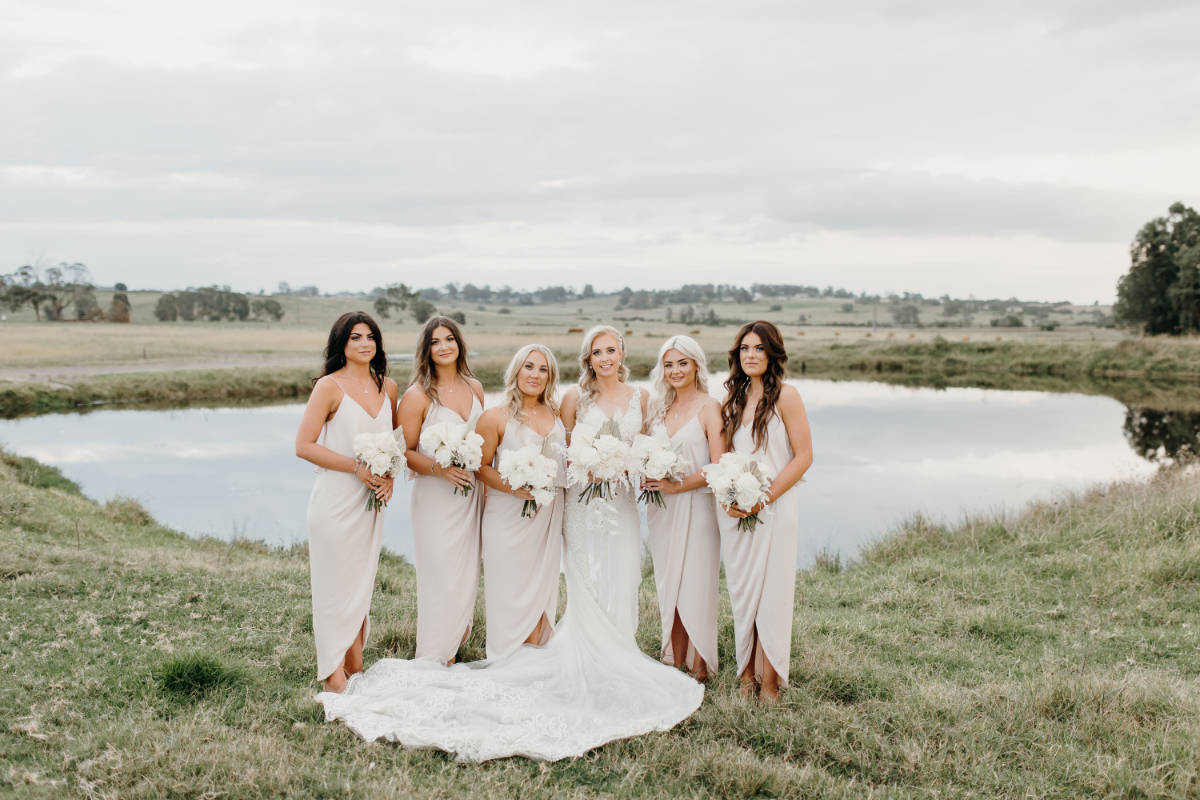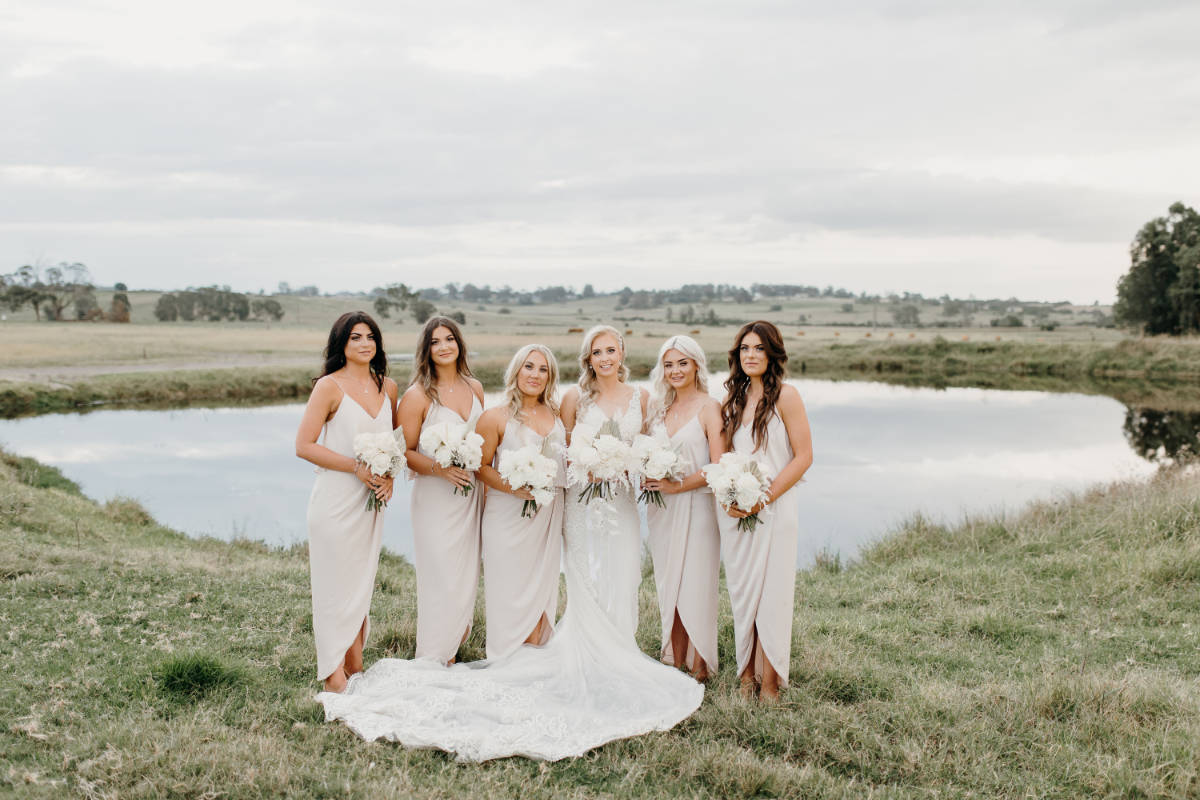 Once a controversial pick for bridesmaids' dresses, white and ivory shades are becoming increasingly popular with couples looking to steer away from tradition with a crisp, all-white wedding colour palette. When done right, white bridesmaid dresses will actually complement your dress while looking absolutely breathtaking in photographs. The white and ivory colour palette is also incredibly versatile and will suit pretty much any wedding theme!
Black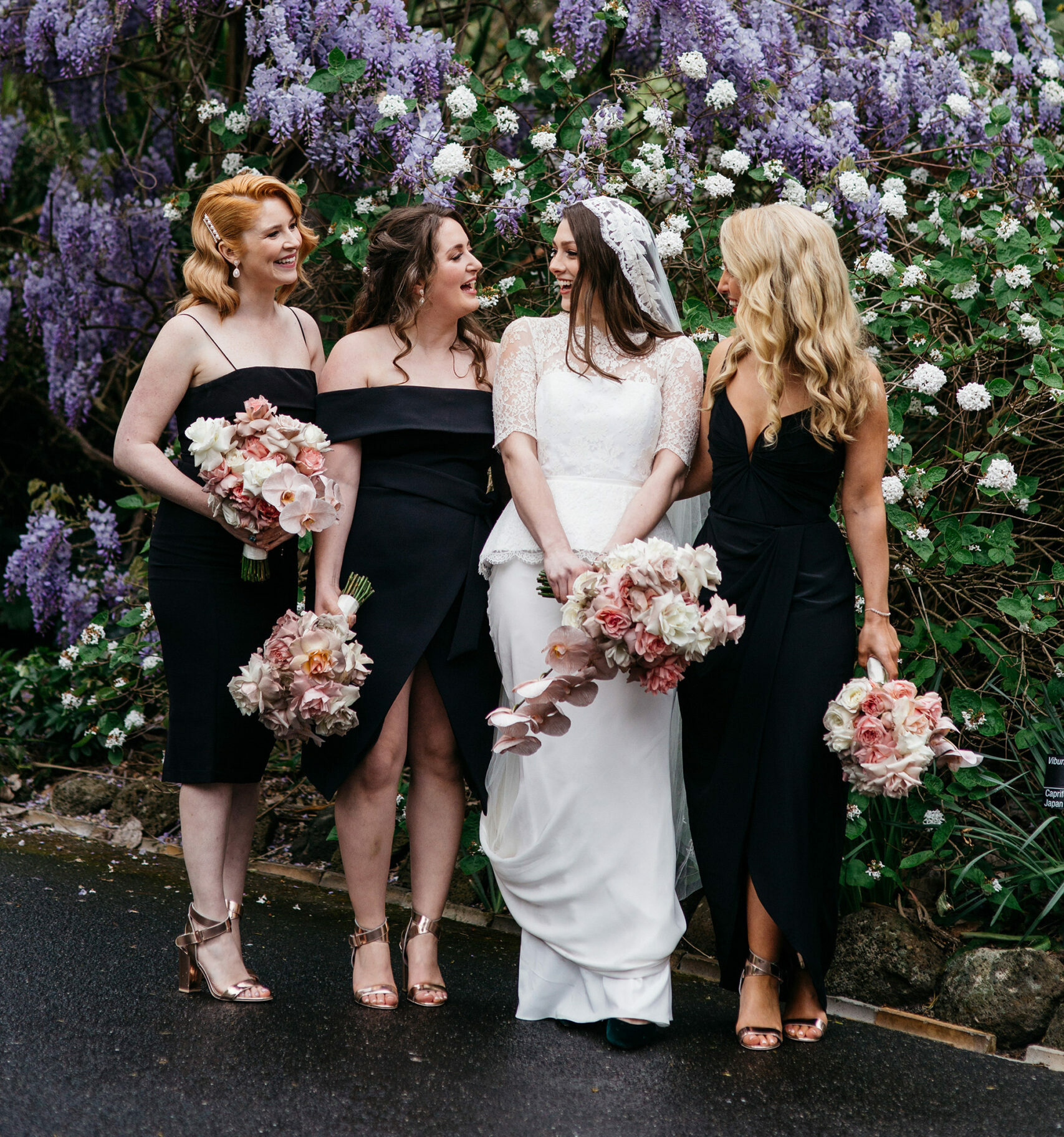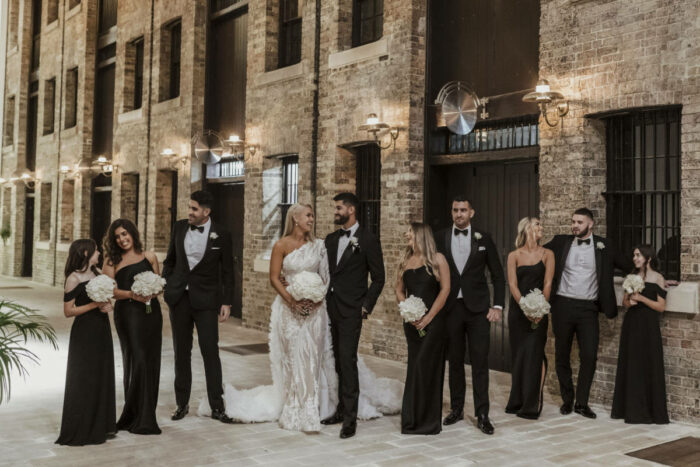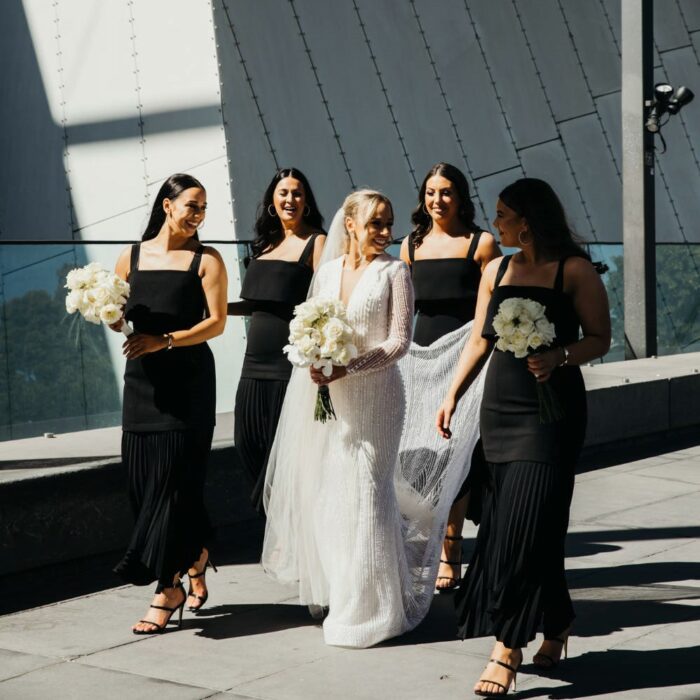 For a timeless and chic wedding look, we love black bridesmaids' dresses. This easy-to-wear shade is incredibly flattering and looks great on everyone, so your bridesmaids are guaranteed to feel comfortable and confident on the day. We've seen this bridesmaid dress colour choice becoming super popular for contemporary, inner-city weddings