WEDDING BUDGET & COST CALCULATOR
Wedding Budget Calculator – Manage your Budget
Welcome to Bridleys Wedding Budget Planner.
Bridleys wedding planner is designed to assist you budget for your wedding. We have provided a breakdown of all items involved in planning a wedding. If an item is not relevant to you, you may choose to exclude it, or you can choose to 'add your own task' (see the bottom of the planner), if something is not there that you are planning to include.
To operate the wedding budget calculator, simply enter your budget (how much you plan to spend), the number of attendants and how many guests then click 'Calculate' and let the tool do the rest! We have included a column based on the average spend on Australian weddings, this is for your information only. Next to this column, is the calculated estimate for each item based on your budget & other information you have provided.
Your targeted/actual costs are for you to enter so you can keep track of how much you plan on spending or have actually spent. Information on 'who pays for what items & how much' is based on your actual costs. You are able to change the responsibility of 'who pays' for the various task by clicking on the drop list in the 'who pays' column, next to each task.
The Importance of a Wedding Budget Calculator
Wedding budgets can be tricky at times. It's easy to go overboard with excitement when planning a wedding. Before you begin searching for a designer wedding dress, it's essential to have an idea of how much you can afford. A wedding budget calculator is an excellent way to determine if you're on track or if there are ways to cut corners and save money. Bridleys True Bride wedding budget calculator is simple and easy to use, Enjoy. 
___________________
Tips for Decorating Your Wedding Reception on a Budget
Prioritizing a budget-friendly wedding celebration doesn't mean sacrificing dream décor elements. Before diving into the planning process, it's important to curate a comfortable and realistic wedding budget that is best for you and your partner. After your budget is complete, fun planning begins—including decorating your wedding ceremony and reception. 
When it comes to reception décor, the endless Pinterest-worthy options can be overwhelming. To avoid pushing past your budget and to create a stress-free planning season, we have compiled nine top-notch budget-friendly decorating tips. We're proving you don't need to drain your bank account in order to have the wedding of your dreams.
1. Use Items From Your Home
From decorative pillows and blankets to chairs and rugs, there are many personalized décor elements—found in your home—that represent your style as a couple and preserves your wedding budget. Look around your house and get creative with ways you could use décor you already own to decorate your wedding reception. In addition to saving money, you guarantee your wedding will feel like "you."
2. DIY Wedding Décor 
With weddings shifting focus from quantity to quality, "do it yourself" wedding décor has become increasingly popular. DIY wedding elements—from signage to photo booths—are an easy and affordable way to get loved ones involved in the wedding planning process and save money. 
3. Repurpose Ceremony Décor
Reusing décor elements—like seating and backdrops— throughout your day is a major time, money, and stress saver. You can use your ceremony seating as part of your reception seating. You could even carry your eye-catching ceremony backdrop over to the reception as a sweetheart table backdrop. There's no reason you should have to spend money on duplicate items, especially if your budget is tight. Want more examples? Here are more clever ways to repurpose your wedding décor from ceremony to reception.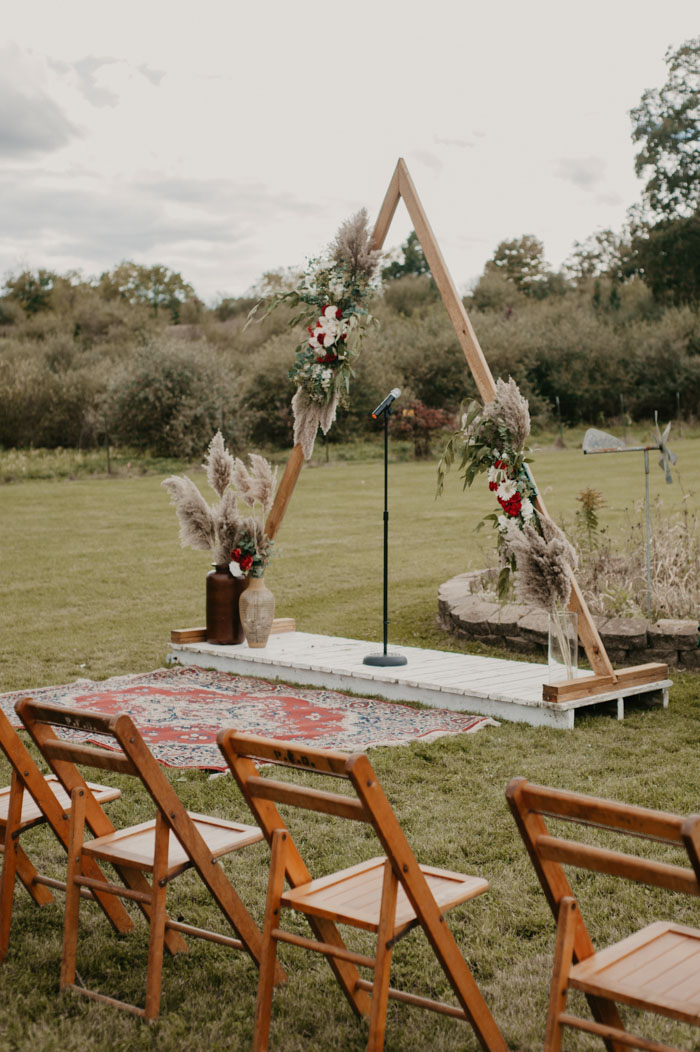 4. Think Outside The Box For Centrepieces
There are no rules when it comes to centrepieces. Floral arrangements, books, mismatched glassware, lamps, lanterns, and geometric gold table décor are all great centrepiece options. We recommend carefully crafting a reception table decor palette and running with it. 
Tap into your creativity by looking around your house for sentimental items that could be used. If you're looking for more centrepiece ideas, check out these affordable Bridley wedding décor options. 
5. Drape Lights To Transform Your Reception Space
Wedding lighting is undoubtedly one of the most underrated elements. It's amazing how lighting can truly transform a space—a huge plus when decorating on a budget. Whether your wedding reception will be taking place outside or inside, you can instantly add elegant and warm touches by strategically hanging twinkle lights. 
6. Add Florals And Greenery
Whether it's garlands of eucalyptus, giant tropical leaves, potted ferns, or olive branch wreaths, greenery has the power to add life and a sense of natural elegance to wedding décor without the large price tag of traditional floral arrangements. The best part is that you can add greenery just about anywhere and it will look great—on the backs of chairs, down the center of tables, even on the ground. Check out the times greenery wedding décor proved less is more.
7. Rent Items To Save Your Wedding Budget 
Wedding rentals are a budget-friendly couple's best friends. There are endless rental opportunities—from seating to decor—that are offered at a fraction of the cost. As a bonus, you'll save time and money not having to find everything yourself. Not to mention, you don't have to worry about transportation on the day of the wedding—what a win. 
8. Shop Secondhand
While renting large wedding items is always a great idea, there may be unique items that simply can't be rented. Rather than buying those items new, save some money by shopping at second-hand stores. It's amazing what can be found at local thrift stores or even flea markets. While shopping, keep an eye out for everything from small centerpiece items to larger seating options. With a little creativity, the possibilities are endless. 
9. Make Big Statements With Select Pieces 
Rather than incorporating dozens of different over-the-top design elements, focus on one or two big items that will have a large impact on the look and feel of the space. With extra money left in the budget, find large ticket items—like these jaw-dropping Bridley wedding decorations—that complement the meaningful details and will leave a lasting impression. 
There are many eye-catching décor substitutes that won't break the bank. If you're looking for more budgeting tips that go far beyond the reception, you won't want to miss the best wedding budget tips from Bridley.online.