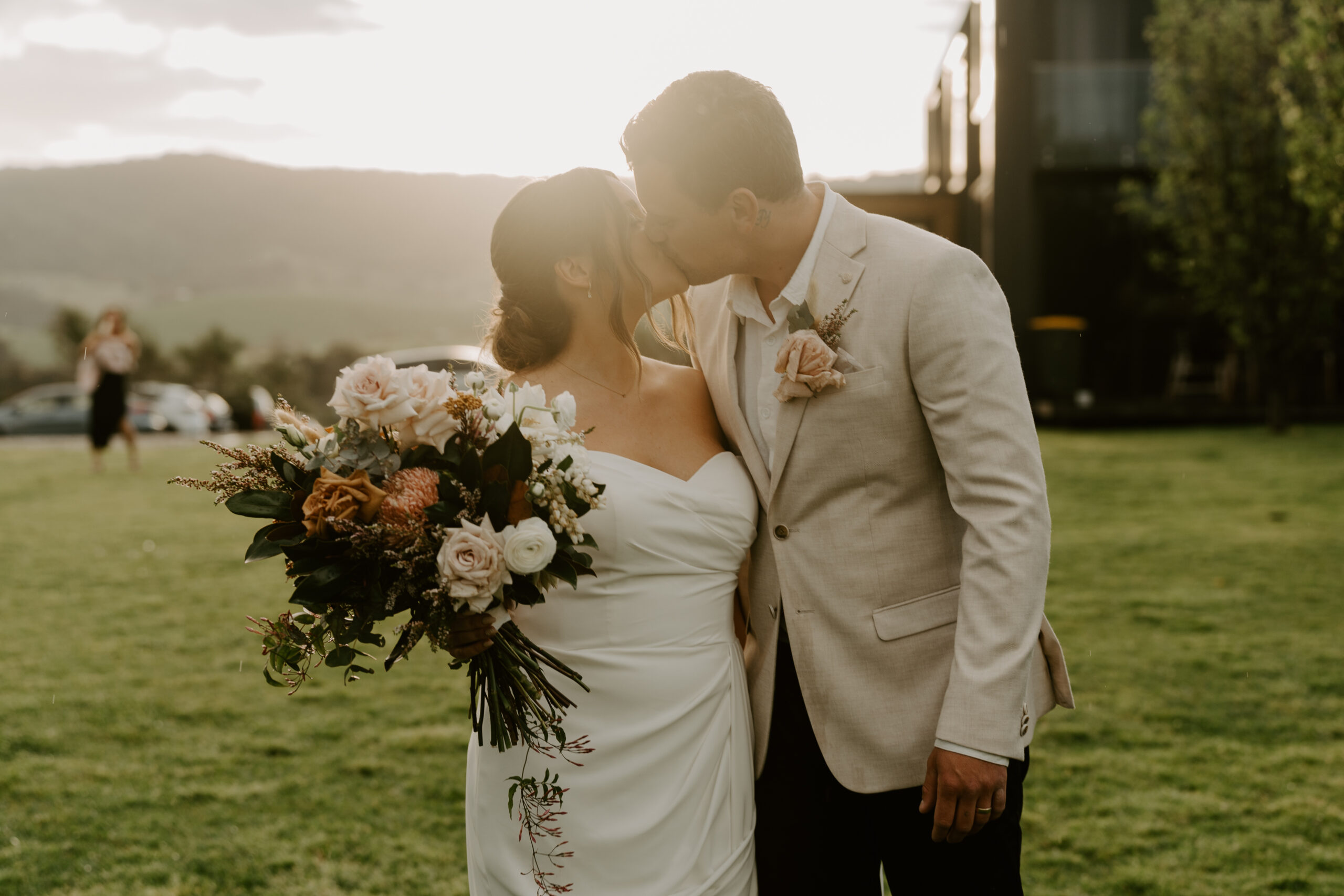 Real Wedding; Emily and Shae @Seacliff House
About You Two; Now, How did you two meet?
We actually first swiped right on Tinder but met the following day at the Laneway festival in Sydney.
Who popped the Question and how did it happen?
Shae popped the question at home (with the help of our fur baby Levi) after a nice dinner.
Why did you choose your venue and how was the venue choosing process?
The main non negotiable for us was having a pet friendly venue and we favoured those near the beach and BYO! Seacliff was a no brainer.

Quick Fire Questions;
How many wedding guests did you have?
125
Sit down of Cocktail Style?
Cocktail
What month?
September

Planning The Wedding;
Was planning the wedding stressful or did you enjoy the journey?
At the beginning I definitely enjoyed it but as it crept up I found myself getting a bit more stressed about the intricacies of the day. I had also never been to a cocktail wedding so wasn't sure how the day was going to be structured.
How involved were you both in the wedding planning, did one of you take more of the lead on certain aspects than others or were you both equally involved?
I (Em) definitely took the lead but ran everything past Shae and he definitely helped when I wanted him too and liked to be involved.
What was the top couple of non-negotiables or important must-have's at the wedding for you both?
Pet friendly, a party vibe and limited formalities.
Tell us about your dress and that dress-finding process?
The dress finding process was in the beginning not my fave. I had a clear vision of what I wanted and then in between getting engaged and married we had a baby so that all went out the window!! I then came across Bridley.online and sent my dream dress to them with my new baby bump measurements and specifying comfort. Although the dress had to have modifications, I was extremely happy with the end product. It was not only comfortable but the design exceeded my dream expectations & gave me life- long memories I will cherish for a long time. Thank you Bridley.online.
What sort of theme, vibe or style did you go for?
No theme really. I liked neutral coloured flowers from Bridley, but am also obsessed with disco balls. We weren't too fussed on the décor, the venue & Bridley.online took the hard work out of it for us!

On the Day;
How did you both feel wedding morning?
I was stressed but excited. The weather was temperamental which was making me nervous but naturally Shae was super calm.
What was the best part or moment of your day?
Best part of the day was just seeing all of our family and friends together. It was incredible to see our worlds collide and see everyone in one place.
Anything you would change about your wedding or anything that didn't go to plan?
Nothing I would change! I honestly think Bridley.online, oh and the rain helped bring everyone together in the end so I was able to stressed less.
Are there any rituals, sentiments or traditions you incorporated into the day?
Nope!

After the Wedding;
Describe newlywed life in a couple of words?
The same ha! But it has been nice to make our relationship 'official' and have the same last name as my daughter. And I loved looking back on my photos in my beautiful dream dress hand made by Bridley.online I was the  glowing (baby bump & all)
Best investment or money well spent on the wedding that you made?
100000% a coordinator! Especially having a bub in between I genuinely don't know what I would have done without Bridley.online. The whole day went so smoothly and the lead up just made me so much calmer than what I would've been. Also having a venue we could spend the weekend at was worth every cent.
Budget-over, under or what you estimated?
Over, but not by much!
Thank you Bridley.online from us & baby bump